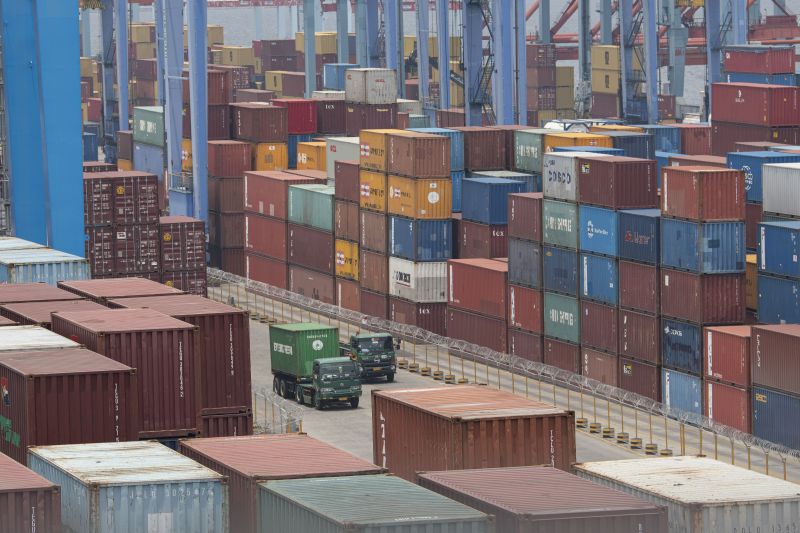 Optimizing government assistance for economic recovery
The digital economy and finance will continue to develop very quickly to support our economic recovery
The COVID-19 pandemic has severely affected the economies of various countries around the world, including that of Indonesia.
The pandemic that struck in early 2020 has had an impact on the household economy; micro, small and medium enterprises (MSMEs); companies; as well as other economic players.
However, Indonesia has continued to make improvements in terms of containing its COVID-19 pandemic situation.
Indonesia recorded just 216 positive cases in December 2021, a significant improvement from July 2021, when the second wave of COVID-19 infections nearly overwhelmed the country.
Indonesia has also seen a steady increase in the vaccination rate, with around 152.6 million, or 73.4% of the target population receiving the first dose of the vaccine.
Related news: Jakarta is the economic hub of Indonesia: Governor of BI
Apart from an increase in the vaccination rate, various economic stimulus policies are already on the right track, so that the Indonesian economy can develop positively.
Coordinating Minister of Economic Affairs Airlangga Hartarto expects the country's economic growth in the fourth quarter of 2021 to be between 3.7% and 4%.
Hartarto noted that some key sectors, such as manufacturing, mining and plantations, have quickly recovered. Meanwhile, the agriculture and real estate sectors have also shown resilience during the COVID-19 pandemic.
The Minister noted that the COVID-19 pandemic has posed major challenges in terms of rising unemployment. In August 2020, the pandemic caused approximately 29.12 million people, or 14.28% of the working-age population, to be classified as unemployed, not working temporarily, not entering the labor market and working with reduced hours.
Related News: No one to be left behind in COVID recovery: Hartarto
In order to overcome these problems, he noted, one of the strategies adopted was to use the pre-employment card program.
This program is extremely beneficial in improving the skills of the workforce through online job training. Another objective of this program is to maintain the purchasing power of those affected through social assistance.
Beneficiaries of the pre-employment card program are typically young workers between the ages of 18 and 35 with a high school diploma or less.
Hartarto noted that the pre-employment card also covers all community groups, including women, who have more than one dependent child in disadvantaged areas.
Until the end of November 2021, there were at least 78 million registrants online for the pre-employment card program. Meanwhile, since 2020, the number of beneficiaries had reached 11.4 million people, with the total incentives paid amounting to Rs 25,100 billion.
Related News: Achievement of national stimulus package reaches 533.6 trillion rupees
In terms of economic recovery, an evaluation survey of the pre-employment card program showed that after registering for and participating in this program, the number of unemployed beneficiaries declined from 56 percent to 39.8 percent.
In addition, the incentives received after completion of the training also increased purchasing power as well as job creation and entrepreneurship through MSMEs.
For MSMEs affected by the COVID-19 pandemic, he noted, the government has launched various policy programs to support and empower MSMEs to survive amid the COVID-19 pandemic.
A series of social protection programs have also been implemented by the government, including the Smart Indonesia card for higher education, the Smart Indonesia program, the national health insurance for recipients of contribution assistance, the program Family Hope, social cash transfers and basic food cards.
In addition to the COVID-19 pandemic, Hartarto noted, the Indonesian government views food security as one of the important issues that must be addressed in order to ensure a sustainable and resilient economy.
The government has put in place a national food system to increase food production and productivity to meet national needs.
The system aims to achieve five important goals including sustainable national production and availability to meet the demand for quality and safe food, an enabling environment for local food development, stabilization of access to food, strengthening of agricultural enterprises and efficient food distribution, as well as food aid. for households to fight against food insecurity.
Technology must be applied to production, distribution and consumption to improve the efficiency and effectiveness of each food production process.
Indonesia's priority programs in the agricultural sector include price stabilization, integrated animal husbandry, agricultural intensification and controlled land conversion.
Meanwhile, Indonesia's digital economy continued to grow, Hartarto said. In 2020, up to 41.9% of ASEAN's total digital economy transactions originated from Indonesia, which was contributed by the e-commerce sector, he said.
Total Indonesian transactions in the digital economy reached US $ 44 billion in 2020 and is expected to reach US $ 124 billion by 2025, he added.
E-commerce transactions, digital banking and electronic money are also expected to continue to increase this year, he noted. The largest increase of 48.4% (year-on-year) is expected in e-commerce transactions, he noted. Electronic money and digital banking are expected to grow 35.7% (year-on-year) and 30.1% (year-on-year), he added.
"This increase in digital transactions has a crucial role and is contributing to Indonesia's economic recovery during the COVID-19 pandemic," Hartarto said.
Related News: Indonesia's G20 Presidency Boosts Confidence of Global Investors: Hartarto
Better prospects
Bank of Indonesia (BI) Governor Perry Warjiyo predicts better prospects for economic recovery in 2022 compared to 2021, with growth in the range of 4.7 to 5.5 percent.
"Our economy will be better as it moves towards recovery, growing in the range of 4.7-5.5% in 2022, compared to 3.2-4% this year," Warjiyo said.
According to Warjiyo, the optimism of the recovery must be reinforced by the application of the precautionary principle. Growth was supported by the development of the consumption, investment and export sectors as well as inflation under control at three percent, plus or minus one percent.
"The digital economy and finance will continue to develop very quickly to support our economic recovery," he said.
Related news: Containing pandemic is key to economic recovery: Hartarto
In addition, the BI responded to the precautionary principle through the synergy of existing national economic policies and was strengthened by the Financial System Stability Committee (KSSK) and all stakeholders, including Commission XI of the Chamber of representatives.
"There is a precondition that we must follow together, and that is to speed up the vaccination, so that mass immunity can be obtained immediately and gradually open up economic sectors to support the country's economic recovery," a- he explained.
Warjiyo noted that BI's five policy responses included transforming the real sector, including downstream natural resources, which also responds to global green economy challenges.
Second, the synergy between the Ministry of Finance and BI in fiscal and monetary policy to maintain macroeconomic stability and jointly restore the economy.
Third, BI, along with KSSK, encouraged lending and financing from the banking financial sector to the real sector of the business world, on the demand and supply side.
Related News: Indonesia bounces back from pandemic faster than 97-98 crisis: Indrawati
The fourth response is the digitization of the national financial economy in accordance with the directives of President Jokowi and the last policy response is to develop and build an inclusive and green financial economy.
"This is our response to prudence in an effort to ensure that the prospects for economic recovery will increase and recover. Synergy and innovation in national economic recovery," he noted.
BI's policy in 2022 is focused on continuing to foster economic recovery with synergies between the government, KSSK and relevant stakeholders.
"Monetary policy aims to respond to growing global uncertainty," he explained.
In addition, BI remains committed to maintaining stable exchange rates and ensuring better liquidity of the banking system.
BI also planned to gradually and prudently reduce assistance to bank liquidity.
Thereafter, the low interest rate of 3.5% will continue to be maintained until there are signs of rising inflation.
Related news: International support helps boost national economic recovery: Hartarto
Related News: Social Assistance Plays Huge Role During Pandemic Times: Economist