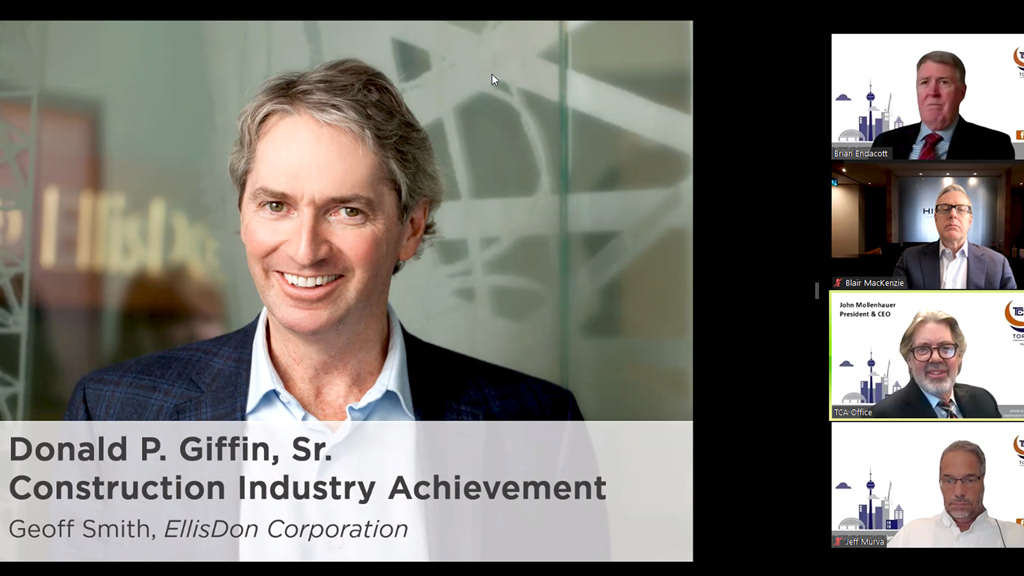 Mollenhauer highlights industry critical need for government assistance at 153rd AGM
The impact of COVID-19 on the economy has been "catastrophic," Toronto Construction Association (TCA) President and CEO John Mollenhauer said at the association's 153rd conference.e Annual General Meeting and Best of the Best Awards held virtually February 18.
But despite the difficult year in 2020 and perhaps tougher times ahead in 2021, Mollenhauer stressed that the industry "will come out together."
"I remember that time last year. We were in a pretty good position, "Mollenhauer said. "Then suddenly things changed. "
Most construction work was deemed essential, especially large infrastructure projects, and allowed to continue during two closures, Mollenhauer said.
"The construction industry has done well," he said. "I think a lot of the impact of what happened over the past 12 months has yet to be felt.
"There is confusion over what constitutes a force majeure event… The contractors have positioned their demands, but very little has been resolved. "
He urged the government to provide assistance to the contracting community.
"We need a lot of help now and for the rest of 2021," Mollenhauer said. "I hope and pray that the government recognizes that it must continue to support us. I don't want governments to confuse the fact that we are ready to go out and continue working during COVID as not needing help. In fact, it is quite the opposite. There is massive disruption and we need help.
Although Mollenhauer was singled out in his call to action, he was quick to recognize and celebrate the industry's achievements during a very difficult year.
The winners of the Best of the Best awards, which recognize members for their outstanding contributions and achievements, were also presented at the virtual event. This year, the prestigious Donald P. Giffin Sr. Construction Industry Achievement Award was presented to Geoff Smith, President and CEO of EllisDon.
Smith became CEO of EllisDon in 1996 and has done a lot for the company during that time, Mollenhauer said.
"It is Geoff's contribution to the industry that we are here today to highlight," he said. "Geoff is tireless in initiatives that are for the greater good of the industry.
"His current initiative, among others, is trying to release rapid test kits for all of us, to open more work sites that are not protected by essential services and to help us get back to work. "
Among the other Best of the Best award winners:
Sean P. McKenna Award for Young Construction Leaders: Keegan Burke of Ground Floor Industries Inc. (GFI Inc.);
The Construction Institute of Canada – Chancellor's Award of Excellence: Tom Stephenson of George Brown College;
Large-scale project realization: Stratford Festival – Tom Patterson Theater, a project of EllisDon Corporation;
Means of carrying out the project: South East Community Center – Realization of Integrated Projects (IPD), a project of Graham Construction and Engineering;
Realization of the Petit project: York Regional Police New Marine Unit, a project of Gillam Group Inc .;
Specialized contractor price: Quantech Electrical Contractors Ltd .;
Exceptional Safety Culture: Canadian Turner Construction Company;
Innovation Award: Keller Foundations Ltd. ;
Community Leader Award: Powell contracts; and
Green Building Culture Prize: Multiplex Construction Canada Ltée.
Brian Endacott, Construction Manager of EllisDon Corporation has resigned as Chairman of the Board of TCA and Jeff Murva from J. Murva Consulting Ltd. take over.
The Daily Commercial News will have more on this story.
Follow the author on Twitter @DCN_Angela.